Yesterday afternoon Celina and I went up to Park City to hit up a a movie at the annual Sundance Film Festival. Last year we saw Frozen River and really enjoyed it. Thus we had high hopes that this years pick
Big Fan
would be just as good.
Sadly, not so!!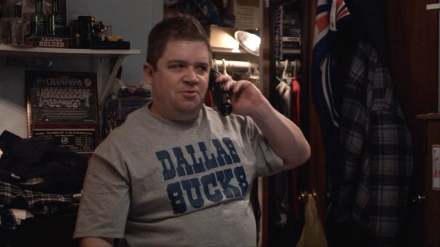 Big Fans main character Patton Oswalt was way too pathetic of an individual who had no aspirations of even getting enough money to actually attend the Giants game let alone get a better job or move out of his mom's house!! Overall it was far too long of a story that didn't really go anywhere. We did score a great free parking spot so we didn't have to deal with that hassle at least.
I was given the name of a little cafe called Windy Ridge Cafe to try in Park City that was supposed to be good. I always like to try new places so I was pretty excited to see if it could be another one of my Park City favorites. We arrived and were seated, as we were perusing the menu I came upon Meatloaf and corn bread which sounded delicious. Celina decided upon the chicken and Pesto lasagna because she loves pesto and wanted something hearty as well. We double checked with the waitress as to how the Meatloaf and lasagna both were and we were assured that both were excellent and were patron favorites. When our food arrived Celina was not impressed with her meager portion and bland taste and my meatloaf was so finely ground that it melted in my mouth almost. Melt in your mouth meatloaf was not anywhere close to what I was wanting or expecting out of a nice big piece of meatloaf!! I think we may try the bakery out back next time instead of the cafe again. Oh well there is always El Chubasco and Davanza's to eat at still and be very satisfied!!!